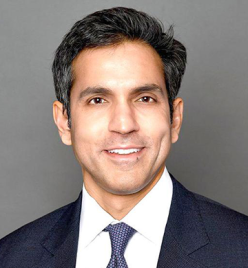 Ravi Ahuja
Chairman, Global Television Studios and Sony Pictures Entertainment Corporate Development
Ravi Ahuja is Sony Pictures' Chairman of Global Television Studios and Corporate Development, leading Sony Pictures Television's Domestic and International Productions, the studio's game show franchises, including Wheel of Fortune and Jeopardy!, and the studio's India business.  He also oversees Sony Pictures Entertainment's (SPE) Corporate Development and M&A activities along with SPE Chairman and CEO, Tony Vinciquerra. 

Prior to joining Sony in March 2021, Ahuja was President of Business Operations and CFO of Walt Disney Television, which included the ABC Network, ABC News, ABC Owned Stations, Disney Channel, Disney Television Studios, Freeform, FX, Hulu Originals and National Geographic. He played a central role in merging Disney/ABC Television and Fox Networks following Disney's acquisition of Fox in early 2019. 

Prior to his time at Disney, he served as CFO of the Fox Networks Group, where he oversaw finance, strategy and business development for all its business units: Twentieth Century Fox Television, Fox Broadcasting, Fox Cable Networks, Fox Sports, National Geographic and Fox Networks Europe and Africa, Latin America and Asia.

In his 12 years at Fox, Ahuja formulated and executed on the company's growth initiatives, including those in streaming and new technology. He helped to guide the company's Hulu joint venture for over a decade and spearheaded investments in Roku, Draft Kings and many others. Additionally, Ahuja led the acquisitions of National Geographic Partners, Yankees Entertainment & Sports Network and Sports Time Ohio. Ahuja is currently on the Board of Directors of Roku, Inc.

Before joining Fox in 2007, Ahuja served as CFO for Virgin Entertainment Group, Inc. Prior to that, he worked at McKinsey & Company and in investment banking.

He has undergraduate and MBA degrees from The Wharton School of the University of Pennsylvania.